School governors are the largest volunteer workforce nationally with over 300,000 school governors in England.
The governing body carries out its functions with the aim of taking a largely strategic role in the running of the school. This includes:
setting up a strategic framework for the school
setting aims and objectives for the school
agreeing policies and targets for achieving the objectives
reviewing progress and reviewing the strategic framework in the light of progress
ensuring accountability to stakeholders
The governing body acts as a "critical friend" to the head teacher by providing support and challenge. The head teacher is responsible for the day-to-day, management and control of the school and the implementation of the strategic framework established by the governing body. The governors and head teacher work together in partnership to raise standards in the school.
There are several types of governors; they are:
Parent governors: parents and carers of pupils at the school are eligible to stand for governorship at the school. Parent governors are elected by other parents at the school. If insufficient parents stand for election, the governing body can appoint parent governors.
Staff governors: both teaching and non-teaching staff are eligible for staff governorship. Staff governors are elected by the school staff and must be paid to work at the school – volunteers are not eligible. The head teacher is a member of the governing body by virtue of his/her office and counts as a member of the staff category.
Local Authority governors: LA governors are appointed by the Local Authority. In Liverpool, the City Council is the appointing body.
Co-Opted governors: co-opted governors are appointed by the governing body to represent community interests, including the business community.
Associate members: the governing body can appoint associate members to attend full governing body meetings in a non-voting capacity. Associate members may serve on one or more governing body committees with limited voting rights.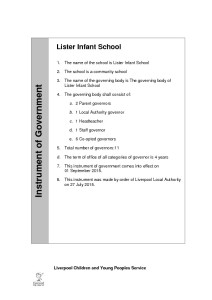 Our School Governors are:
NAME
CATEGORY
SPECIFIC ROLE
COMMITTEE MEMBER
CHAIR PERSON OF COMMITTEE
DATE OF APPOINTMENT
APPOINTED BY
BUSINESS INTERESTS
GOVERNANCE ROLE IN OTHER EDUCATIONAL ESTABLISHMENTS
TERM OF OFFICE
Mrs Gill Price
Co-Opted
Chair of Governors

Safeguarding Link Governor

Resources

Curriculum & Standards Pay Review

Headteacher Performance Review

Chair of Governors
May 2019

Governing Body

None
Governor at St Sebastian's CP School Liverpool.

4 years

Mr Rob Whiteway

Co-Opted
Vice Chair of Governors

Resources

Chair of Resources

Sept 2017

Governing Body
None
None
4 years
Mrs Anna
Stokes
Co-Opted
SEND Link Governor
Curriculum & Standards
 Chair of Curriculum  & Standards Committee
Sept 2018
Governing Body
School
Uniform
None
4 years
Mrs Catherine Falco
LA Governor
May 2019
Governing Body
 None
None
4 years
 Mrs Abigail Cox
 Co-Opted
 Curriculum & Standards
 July 2018
 Governing Body
 None
 None
4 years
Mr Steven Pritchard
Co-Opted
Online Safety
Link
Governor Health & Safety Governor
 Resources
Sept 2019
Governing Body Appt as Co-Opted Governor as part of Reconstitution of Governing Body.
None
Governor at Lister Junior School
4 years
Miss Leanne McKenzie
Parent
 Curriculum & Standards
March 2016
Governing Body
Owner of Childcare Provision in local area.
None
4 years
Mr Stephen Moss
Parent
Curriculum & Standards
March 2016
Governing Body
None
None
4 years
Mrs Janet
Davies
Head teacher
Resources
Curriculum & Standards
Sept 2013
N/A
None
Vice Chair of Tuebrook Children's Centre Advisory Board
Permanent
Ms Ashley Haynes
Staff
 Curriculum & Standards
 Sept 2017
 Governing Body
 None
 None
 4 years
Ms Ann
Whitelaw
Clerk
Sept 2012
N/A
N/A
Permanent
LA Vacancy
The Chair of Governors is Mrs Gill Price
Vice Chair of Governors is Mr Rob Whiteway
To ensure the governing body is effective in carrying out it's duties the full committee meets 4 times per year. As well as this there are three sub committees who meet separately. The Resources Committee meets 4 times per year. The Pay review Committee meets at least twice a year and the Curriculum Committee meets twice a year.
If you would like to contact any of the governors please send in a sealed envelope for their attention and our administration staff will pass this onto them.
LISTER INFANTS SCHOOL BREAKDOWN OF GOVERNORS ATTENDANCE AT GOVERNING BODY MEETINGS SEPTEMBER 2018 TO JULY 2019
Full Governing Body Meetings
| NAME | 10/2018 | 01/2019 | 05/2019 | 07/2019 | | TOTAL (4) |
| --- | --- | --- | --- | --- | --- | --- |
| Fr Simon Fisher (CO) |  = |  A |  = |  A | | 2/4 |
| Gill Price (CO) |  A |  A |  A |  = | | 1/4 |
| Anna Stokes (CO) |  = |  = |  A |  = | | 3/4 |
| Rob Whiteway (CO) |  A |  A |  = |  = | | 2/4 |
| Abigail Cox (CO) | = | = | A |  A | | 2/4 |
| Steven Pritchard (CO) |  = |  A |  = |  = | | 3/4 |
| Leanne McKenzie (P) |  A |  = |  A |  = | | 2/4 |
| Stephen Moss (P) |  = |  = |  = |  A | | 3/4 |
| Ashley Haynes (S) |  = |  = |  = |  = | | 4/4 |
|  Janet Davies (HT) |  = |  = |  = |  = | | 4/4 |
| Paula McFadden (AM) (SBM) |  = |  = |  = |  = | | 4/4 |
| Kirsty Hamilton (AM) (DHT) |  = |  A |  = |  = | | 3/4 |
| Catherine Falco (LA) | – | – | = | = | | 2/2 |
Key
= Present
A = Absent (Apology submitted) and accepted.
X = Absent with no apology submitted
–  = Not a Governor at that point in time
CO  =Co-Opted Governor (formerly Community Governor)
LA = Local Authority Governor
P = Parent Governor
S = Staff Governor
HT = Head Teacher
AM = Associate Member*
NB * Associate Member (AM)with no voting rights